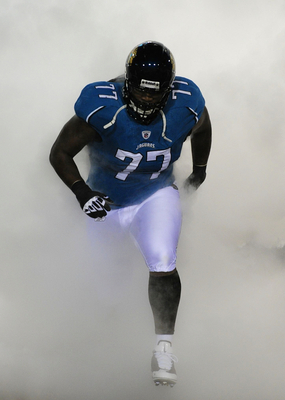 *Pictured Right: Jaguars 318 lb. G Uche Nwaneri
My buddy Blake is an avid football watcher. Until the last two weeks, he's never really had a team to call his own. He follows styles of play. He loves to run the ball and stop the run, so, naturally, he hates the Colts due to their failure to do either one (except on rare occasions). He likes the Jaguars style of play but called me because he doesn't understand them.
You see, he had slowly been becoming a Titans fan. They run the ball well, obviously, and they normally stop the run well. They harass the quarterback and their defense makes turnovers. They also don't run the 3-4. They're perfect for him. Sadly for Jaguars fans, they're a mature version of the Jaguars.
So when he called me today, after giving me a few days to get cooled down from the loss, he asked me what was the deal with the Jaguars offensive line. He stated how much bigger they were than the Titans D-line. They were, I noted. He goes on to say that the Cowboys O-line was even bigger than the Jags and the Raiders are the biggest there is. With all these big linemen pushing TN around over the weeks, MJD should've had a field day because he was obviously the most talented of the backs TN would have faced this season. I decided to do some research. RB's rushing and receiving stats along with their offensive line's size. I have no idea how this will fare, so enjoy. I think.
Now, obviously, D-linemen are moved around and do rotate, so I have included the reserves however little they play.
All information is from NFL.com
First off, the TN Titans starting D-line.
LE Jason Babin: 6'3", 260 lbs.
DT Jason Jones: 6'5", 276 lbs
DT Tony Brown: 6'3", 305 lbs.
RE Dave Ball: 6'5", 255 lbs.
RESERVE D-Linemen
LE William Hayes: 6'3", 272 lbs.
DT Jovan Haye: 6'2", 277 lbs.
DT Sen'Derrick Marks: 6'2", 294 lbs.
RE Jacob Ford: 6'4", 252 lbs.
RE Derrick Morgan: 6'3", 278 lbs. (DNP vs Jags, IR)
DT Kareem Brown: 6'4", 285 lbs.
DT Amon Gordon: 6'2", 305 lbs.
Check this out:
The average starting D-lineman for the Titans:
6'4", 274 lbs.
The average reserve D-lineman for the Titans:
6'2.8", 280.4 lbs.
Now, their opponents:
Week 1-- Raiders
AVG O-lineman: 6'6", 316 lbs. (backup RG and C would raise this believe it or not)
AVG TE: 6'4.5", 252.5 lbs.
Darren McFadden: 6'2", 210 lbs.

18 carries, 95 yards. (AVG-5.27)
6 rec, 55 yds, 1 TD. (AVG-9.16)
The Titans starters faced a 42 lb difference versus the O-line of the Raiders, on average, and, judging by the stats, were pushed around.
Week 2-- Steelers
AVG O-linemen: 6'5.4", 331 lbs.
AVG TE: 6'4.6", 260 lbs.
I'm blown away by the massiveness up front by this squad.
Rashard Mendenhall: 5'10", 225 lbs.
23 carries, 69 yards.
1 rec, 3 yards
Apparently, the 57 lb advantage for the Steelers did not go a long way.
Week 3-- Giants
AVG O-linemen: 6'4.4", 314.6 lbs.
starting C Shaun O'hara missed this game. He was replace by Adam Koets, who is 2 inches taller and 3 pounds less, if you're curious and end up on a game show where that is relevant.
AVG TE: 6'4.5", 246 lbs.
Ahmad Bradshaw: 5'9", 198 lbs
15 carries, 88 yards, 1TD (5.9)
5 rec, 30 yds (6.0)
Brandon Jacobs: 6'4", 264 lbs
4 carries, 17 yards (4.3)
1 rec, 1 yard (1.0)
Week 4-- Broncos
AVG O-line: 6'4.4", 310.6 lbs
AVG TE: 6'4", 255.6 lbs
Knowshon Moreno: (out that week)
Laurence Maroney: 5'11", 220 lbs
11 att, 5 yds (.5)
2 rec, 10 yds
Correl Buckhalter: 6'0" 223 lbs
6 att, 3 yards (.5)
5 rec, 38 yds, 1TD (7.6)
Week 5-- Cowboys
AVG O-line: 6'5.2", 327 lbs
AVG TE: 6'6.3", 267.3 lbs
Felix Jones: 5'10", 220 lbs
15 att, 109 yards
4 rec, 17 yards
Marion Barber: 5'11", 219 yards
6 att, 19 yards
Week 6-- Jaguars
AVG O-line: 6'4", 309.6 lbs
AVG TE: 6'5.6" 266.6 lbs
Maurice Jones-Drew: 5'7", 208 lbs
17 att, 57 yards (3.4)
2 att, 8 yards (4.0)
Rashad Jennings: 6'1", 228 lbs (no carries)
Deji Karim: 5'8", 209 lbs
3 att, 3 yards (1.0)
2 rec, 9 yards (4.5)
EDIT: Ewdtrey speaks: are you sure our average weight on the OL against the Titans was only 309? Remember Vince was starting over Smiley….
Monroe- 308
Vince- 333
Meester- 302
Uche- 318
Britton- 310
Average: 314.2 lbs
Average with Smiley instead of Manuwai is 309, like you said.
My Thoughts: In no way are you certain to be disabled in the run game by smaller defensive linemen. The smaller linemen, such as the Titans, can sometimes be a liability but in this instance they are not. The Titans defensive line coach is one of the best in the league and by these facts has proven his ability to coach against the run game, except in some instances where they are too geared for the pass (Cowboys game) and not geared enough for the run. I would love to have a 355 lb guard like Dallas does or maybe a 338 lb tackle (just not Flozell) like the Steelers do. A 6'6" 325 lb Ryan Clady is great for every team, but in the end the coaches do matter even more than size. I don't know what to say about the Jaguars. They just didn't out-muscle the Titans and we can say that part of it may be size but they are plenty large enough to have bullied the Titans linemen around, they just didn't. MJD and Deji Karim really tried but when there's no push, there's no big plays.The size helps, but its not the decider.
Sidenote: The largest lineman i encountered on all these teams starters was Raiders RT Langston Walker . He stands at 6'8" and 360 lbs. WOW!
Anyway, I thought it was interesting. Let me know what you think.
-Brandon Clark