http://www.grantland.com/story/_/id/9768340/bottoming-jacksonville
Resize Font: A- A+ Bottoming Out in Jacksonville
The Sports Guy wraps up the current state of the Jaguars in 20 depressing realities and makes the Week 5 picks
By
Bill Simmons
on October 4, 2013
It is a results league and we're trying to stay away from that. Not that that's not important. It's very important to us, but we feel the quickest way to get there is our process. But I understand that's in the back of their heads. We'll utilize that. If there is some frustration by the players, that's OK as long as we utilize that to help us get better."
Poor Gus Bradley — he's all over the place. In January, Bradley gave up running Seattle's potentially superb defense so he could take the wheel of Jacksonville's sinking ship. In September, his Jaguars crapped out the most incompetent four-game start in NFL history. This Sunday, they're 12-point underdogs against a struggling QB whose fans booed him for the entire second half of his last start. In Week 6, they'll travel to Denver and immediately become the biggest single-game underdogs in NFL history. Oh, and Blaine Gabbert is prominently involved. So it's quite possible that Gus Bradley is losing his mind.
We don't care about results, but they're important, but we have to stick to a plan, but it's frustrating, but frustration can ultimately be a good thing.
Have the Jaguars hit rock bottom yet? So far they've been the perfect storm of "present-day futility," "future hopelessness" and "long-term irrelevance." When the 0-16 Lions bottomed out in 2008, at least their fans took solace in the Calvin Johnson era, Matt Millen's impending demise and a recognizable fan identity. Sure, that identity may have centered on decades of unhappiness and despair, with a few pleasurable Barry Sanders seasons mixed in, but still — that's an identity! How would you describe a Jaguars fan? What do they have to show for these past two decades other than the "We Hosted The Most Depressing Super Bowl Ever" championship belt?
The greatest Jaguar ever? A left tackle — and not just a left tackle, but a left tackle whose career was cut short by injury (Tony Boselli). The most famous Jaguar ever? Fragile Freddie Taylor, who murdered more than 34.8 million fantasy seasons from 1999 through 2009. The most exciting Jaguar ever? Either Taylor, Maurice Jones-Drew or Jimmy Smith … unless you count Gabbert, who is exciting for all the wrong reasons. You know who came in sixth onJacksonville.com's list of the greatest Jaguars? Keenan McCardell. KEENAN MCCARDELL??? Keenan McCardell.
Jaguars fans have never seen a jersey retirement ceremony or a Super Bowl appearance.1 Their only good coach (Tom Coughlin) got canned in 2002, took over the Giants and won two Super Bowls. Their greatest moment happened in January 1997, when Mark Brunell and the Jags shocked John Elway's Broncos at Mile High as double-digit underdogs … and promptly got thumped in the AFC Championship Game the following week. And they've spent the past few years getting tossed into every conceivable Los Angeles/London relocation rumor. As far as I can tell, the Jaguars have only six things going in their favor other than draft picks, cap space and abject sadness.
No. 1: Parity. Thanks to the salary cap and imbalanced scheduling, it's impossible to bottom out in the NFL for longer than a few years. Well, unless you're Cleveland or Buffalo. (Thinking.) You're right, scrap this point.
No. 1 (revised): They have two above-average kickers: Josh Scobee (described recently on ESPN.com as "pretty much the only weapon the Jaguars have right now") and the appropriately named Bryan Anger. In the 2012 draft, the Jags took Anger in the third round, just five spots ahead of Russell Wilson. Can you remember another team drafting the exact emotion that its fans would be feeling for the next 15 years? Literally, they took anger.
No. 2: $20 million worth of new video boards are coming! Woo-hoo! Get a clearer look at this upcoming third-and-18 incompletion, everybody!
No. 3: At least they don't have Lane Kiffin.
No. 4: For anyone who doesn't think there's hope for Gabbert someday: Last night, Brandon Weeden came off the bench on national TV and led a team to sole possession of first place in something other than the BQBL. WEEEEEEEEEEEEEEEEEEDS!!!!!!!!!!!!!!!!
No. 5: One more week of fake Jones-Drew trades before the deadline. Cue up the ESPN.com NFL Trade Machine that doesn't exist!
No. 6: Fairly new owner Shad Khan is worth nearly $4 billionand subscribes to the "it's a marathon, not a sprint" philosophy (which all lousy franchises should embrace). In Jacksonville's case, maybe it's one of those Forrest Gump–type marathons that might never end, but still. I have faith that Khan might turn things around, even if it might be because I'm overwhelmingly partial to dads with long hair and goofy mustaches.
Whoops, wrong guy.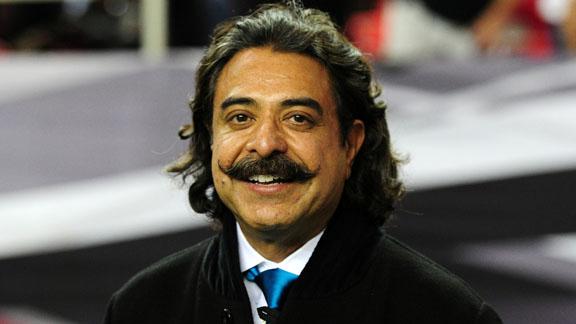 There he is! Wait, Shad — could you pose with a fake Jaguar statue for me?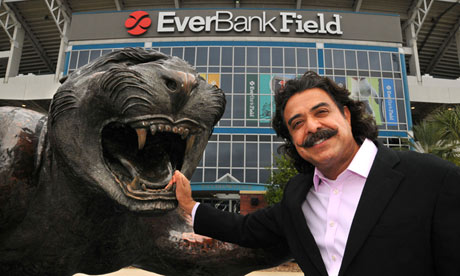 I love Shad Khan. Over the long haul, the 122nd most wealthy man in America might save Jacksonville's wretched mess, whether it happens in Florida or elsewhere. (In general, you should never bet against really really really really really really rich guys unless they're named James Dolan.) There's a chance the Jags have bottomed out already, that we'll be remembering this specific week as their darkest hour. And if that's the case, here are 20 depressing realities about the 2013 Jacksonville Jaguars on October 4, 2013.
1. They've been outscored 129 to 31 and fallen behind by at least 16 points in all four defeats. There hasn't been a glimmer of hope other than a safety that gave them a 2-0 lead against Kansas City in Week 1 … followed by the Chiefs scoring the next 28 points. So … yeah.
2. Jacksonville's offense has averaged a league-low 7.25 points, a league-low 224 yards (almost 50 fewer than the second-worst offense) and a league-high 726,547 times when fans said the words, "I mean, seriously … Tebow can't be any worse than this, right?"
3. Our friends at Football Outsiders say the 2013 Jags have the worst DVOA ever through four weeks: a staggering minus-83.8 percent.2 I can't even properly explain how bad that is — imagine a pro golfer shooting a 112 at the Masters and you're lukewarm.
4. The phrase "historically bad" has become the single most overused phrase in sports. Our reliance on this phrase in 2013 has been historically bad. But you know what? The numbers say Blaine Gabbert has been HISTORICALLY BAD this season, even if it hasn't entirely been his fault. He's thrown 67 passes for just 300 yards, completing 49.3 percent of them (for 4.48 YPA), with zero touchdowns and five picks. He has been sacked 10 times. He has generated three points for Jacksonville and 14 points for Jacksonville's opponents (thanks to two pick-sixes). His QB rating (30.7) doesn't even add up to half of the Trudeau Line (63.9). He's 90 points behind Peyton Manning's QBR with an impossible 1.4 QBR — a metric that goes from 0 to 100. In other words, Blaine Gabbert could be dead and he'd be only 1.4 points worse.
Gabbert has played so poorly that the Madden video game sarcastically included a "Blaine Gabbert Legacy Award" for this year's game. The joke was that you have to work hard and earn tons of points to qualify for different Legacy awards — Elway, Sanders, Marino, etc. — but for Gabbert's Legacy Award, you need to earn only two points. Now that's just mean. I don't think Maddenshould be piling on Blaine's Season From Hell like this.
(Wait, they did this three months ago? My bad.)
5. After watching all three of Gabbert's interceptions bounce off the hands of Jacksonville receivers in Indy last Sunday, a sympathetic Bradley told reporters afterward, "I'm staying strong with Blaine because he competed and he's doing what we asked him to do … I saw him do some things. He took off and ran, although we have to teach him how to slide better. If you watch the film in that matter, you'd say, 'OK, we've got to find ways to help him.'"
What happened 48 hours later? The Jags traded Eugene Monroe to Baltimore for two future picks.Here's some help, Blaine! We just traded your starting left tackle!This was another NBA-like tankeroo move — the Jaguars gunning for Play Dead for Ted pole position while destroying Gabbert's already-decimated confidence so they won't feel bad about picking Teddy Bridgewater. I don't know whether to applaud them or file a police report.3
6. The only person taking more abuse than Gabbert: Jacksonville's mascot, Jaxson De Ville, who settled a paintball bet with Indy's mascot after last Sunday's 37-3 thrashing by taking 40 paintballs from 10 yards away. Even Don Jonisn't into mascot-abuse porn, but you might be. Here's the link. What a trouper. I have De Ville third on Jacksonville's MVP ballot right now. That's not even a joke.
7. How bad are the 2013 Jaguars? This Sunday, they're getting 12 points against a 1-3 Rams team that has fallen behind by 20-plus points in all three losses and scored 18 points total the past two weeks. That's right, SAM BRADFORD is laying 12 in a National Football League game in a scenario other than "the other team was wiped out by a staph infection."
8. You'd think USAToday.com's recent non-ironic headline "Could Alabama beat the Jacksonville Jaguars?" would be the most sobering Jaguars-related headline of 2013. Nope. I'm still going with"The Jaguars Draft 'War Room' Is As Utterly Depressing As You Would Think." I implore you to click that link.
9. Even when the Jaguars do right by their fans, they get in trouble. Two weeks ago, they tried a "free beer" promotion that drew the ire of MADD. At least that convinced them to cancel "Throw Your Own Feces Night."
10. This can't be forgotten — it's been a REALLY abrupt swoon. The Jaguars weren't expected to make the playoffs, but they weren't expected to be reprehensibly appalling, either. Only seven weeks ago, Sports Illustrated posted a flattering Bradley piece revolving around themes like "The Bradley Effect" and "In Gus We Trust" and including this:
It's difficult to overestimate the degree of enthusiasm the Jaguars players have for Bradley and the atmospheric change (he's) brought to a deflated locker room in his few short months on the job. In my years of covering the NFL, I can remember witnessing only one other similar honeymoon between a first-time head coach and the perennial loser he inherited: Tony Dungy's inaugural offseason in Tampa Bay in 1996.
He should have gone with Kim Kardashian and Kris Humphries instead.
Meanwhile, ESPN The Magazine's 2013 NFL Preview issue featured an extended piece about Jacksonville's embrace of advanced metrics. My favorite part was the story about Tony Khan (Shad's son and an executive VP for the team) putting three handwritten sheets of paper on Bradley's desk last spring.
Here's how writer David Fleming described the moment: "The page titled 'Blaine QB Rating Stats' revealed that when adjusted for drops, throwaways and spikes, Gabbert's passer rating in 2012 was a respectable 82.8. The next page, 'Blaine Time in the Pocket,' detailed the Jags' woeful pass protection: The line gave Gabbert an average of just 2.56 seconds to throw the ball. When he had more than 2.6 seconds to throw, his QB rating jumped to 84.5. The final page, 'Blaine Under Pressure,' showed that when facing a six-man rush, Gabbert ranked first among QBs in completion percentage. Bradley was convinced that Gabbert deserved another shot."
So to recap: When you give Blaine Gabbert a ton of time, he's respectable … you know, as opposed to other QBs who are getting a ton of time. This advanced-metrics revolution is really taking off! Do you think Bradley wishes he set those three pages on fire?
11. Speaking of Gus, he will either be remembered for going 0-16 in 2013 or for starring in the smash-hit sensation "DO YOUR JOB!" video, which was every bit as good as Kimmel's fake twerking video in which a girl caught on fire, only Bradley's wasn't fake. Do your job. Do your job! (Gus, I'm talking to you.) DO YOUR JOB!!!!!!!!!!!!
12. I can't imagine any NFL franchise has faced a bleaker situation for online jersey purchases. Up until the special sale ended yesterday, you could buy authentic home jerseys of Jacksonville's "best" three offensive players (Gabbert, Jones-Drew and Justin Blackmon) for less than $110 combined. They were 40 percent off from already being 40 percent off. Knock yourselves out, Jags fans. Treat yourself. But if you're scared of committing jersey money to someone who might not be a Jaguar next season, and you want to audible and purchase a quality Jags throwback jersey that will never fall out of style … well, somehow there's only one choice: a David Garrard replica for $49.99.
Seriously, that's the only choice.The Jaguars don't even have throwback jerseys. Shouldn't we be able to purchase a throwback Freddie Taylor jersey with an accompanying cast and crutches? Why can't I do this? Instead of splurging on old-school Garrard, I'd recommend an ironic "BLACKMON KNOWS" Nike T-shirt that's on sale for 25 percent off. Blackmon Knows … four-game suspensions!
13. Is there any hope for these last 12 games? Football Outsiders tells us that 44 percent of Jacksonville's drives in 2013 have been three-and-outers. (Or as they're called in some circles, "Gabberts.") The Jaguars are averaging 0.58 points per drive (compared to Denver's 3.43 points per drive) and 16.2 yards per drive (compared to Denver's 41.98 yards per drive). The Jags offense has punted 61.5 percent of the time and turned the ball over 15.4 percent of the time — so 76.9 percent of the time, something ranging between "bad" and "horrific" happens within three plays. Again, it's a good thing their punter wears this jersey.
14. The best case I've heard for Gabbert turning around Jacksonville's offense: Jones-Drewrecently volunteered his supportby saying, "Sometimes things don't work out the way you want them to. You have to fight through some things. In The Shawshank Redemption, what is said at the end of the movie? Sometimes you have to crawl through 500 feet worth of [stuff] to come out clean on the other side. You have to go through adversity to understand your true character. Blaine does have special talent. He can make every throw on the field."
Hold on, lemme use my Morgan Freeman voice and see if this works.
Blaine Gabbert crawled through 500 yards of shit-smelling foulness the likes of which I can't imagine. At that point, he threw a pass that deflected off the hands of Cecil Shorts and into the hands of a waiting—
(Nope.)
15. I can't believe we've come this far without mentioning the Gabbert/Real American video. Maybe it's the second-best case for Gabbert turning around Jacksonville's offense: Are you really telling me that this so-obviously-destined-to-become-ironic-once-Gabbert-loses-his-job clip is just going to become ironic when Gabbert loses his job and that's that? (Thinking.) Yeah, you're right, that's where we're headed.
16. Then again, Gabbert did inspire this excellent idea for a rule change from a San Diego reader named Brian: "What if eight games into every season, the league's worst team was forced to sign and start Tim Tebow for the rest of that season? Wouldn't that be a great story line/incentive to win? Why not make things interesting? It's not fair that they're forcing us to watch the likes of Blaine Gabbert or Mike Glennon throw up all over themselves when Tebow would be infinitely more entertaining. GIVE THE PEOPLE WHAT THEY WANT!"
(To be fair, a few Jags fans had a"Bring Back Tebow" rally in mid-September, and more media members than fans showed up. Still, I love this idea. And the Jaguars fall to 0-8 … according to the controversial Tebow Booby Prize rule, they now HAVE to start Tim Tebow next week.)
17. That reminds me, the 2013 Jaguars actually have an "out" — they could make their season 10,000 times more interesting by signing Tebow (a hometown hero, no less), starting him for the next three months, selling a few million dollars' worth of Tebow jerseys to thousands of fans sporting Tebowners no matter how it plays out, and hopefully — repeat: hopefully — ending up with the league's worst record anyway. Then again, if their goal is to bottom out NBA-style for Bridgewater, that's a dangerous plan. Tebow won nine of 17 games as an NFL starter (including an OT playoff game). Gabbert has won just five of his 26 starts.
So if you're scoring at home: (a) Tebow is an above-.500 starting QB (it's true), and (b) Gabbert has as many career NFL victories as Claire Danes has creepy, keeping-her-bra-on sex scenes inHomeland. For Play Dead for Ted purposes, the Jags are better off with Blaine.
18. The highest NFL gambling spread of all time happened on December 5, 1976, when the defending champion Steelers were favored by 24 over the winless Bucs. (Pittsburgh covered with a 42-0 blowout.) In Week 6, the Jags will probably be getting something in the range of 27 or 28 points at Denver. I can't see that record-breaking number changing unless the Jaguars either beat St. Louis on Sunday or come damned close. And you know what else? I plan on laying the points with Denver as long as it's under 35. Give me Evil Manning laying 34.5 right now and I'm taking it.
19. A reader named Brooks in Waco e-mailed recently: "I'm at the local zoo the other day when I see this display: 'Jaguars were originally placed on the federal endangered species list in 1969, but lost that protection north of the US-Mexico border due to what the US Fish and Wildlife service termed a typographic 'oversight.' Is this a perfect metaphor for absurd mismanagement? Or does this just tell us that no one cares about the Jaguars in any context?" Or is it possible that the entire two-decade Jaguars run has been a typographic oversight? Regardless, these are the e-mails you get about a football team that might be headed for 0-16.
20. In my Week 3 column, one of my readers brought up the concept of Clock Games — whenever a crappy football team loses by a score that, if you flipped it, could be the time on a clock. After we posted that e-mail, a Washington reader named Alex Sligar created a website calledNFLClockGames.com. You can find your Clock Game standings there for 2013 and for all time, too. I know, the Internet is an amazing place. The Jags have three Clock Games in four weeks — 2:28, 9:19 and 3:37 — which puts them on pace to break the Clock Game record of 10.
As Alex explains, "Your 1990 Pats tied three other teams with nine Clock Games, falling one short ofthe '91 Indianapolis Colts. The '91 Colts had an amazing 10 Clock Games and were also shut out twice!4 Our biggest Clock Game margin ever: The 1979 Jets had a 3:56 against your Pats. We've had 15 Clock Games in the Super Bowl — the biggest one was the 10:55 49ers-Broncos game. What's the reward for having the most Clock Games? You're usually on the clock first come late-April. So say it with me now, 'With the first pick in the 2014 draft, the Jacksonville Jaguars select … '"
And really, that's the best thing you could say about this Jacksonville Jaguars season. Like Andy Dufresne and Blaine Gabbert, they're crawling through 500 yards of shit-smelling foulness, trying to get to the other side. Andy had Zihuatanejo. Blaine has the CFL. And the Jaguars have Teddy Bridgewater and the 112th wealthiest man in the world, as well as the knowledge that it's a results league and they're trying to stay away from that. Next stop: 0-16. Do your job, Gus.
Let's hit the Week 5 picks …
Page:

Bill Simmons(@BillSimmons) is the editor-in-chief of Grantland and the author of the New York Times no. 1 best-sellerThe Book of Basketball. For every Simmons column and podcast, log on to Grantland. To send him an e-mail, clickhere.
Previously from Bill Simmons: