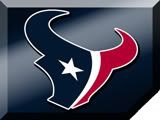 VS.
The Facts
Date: December 30th, 2007
Time: 12:00 p.m. Central
Location: Reliant Stadium, Deep in the Heart of Texas,
Records: Jaguars (11-4) , Raiders (7-8)
Weather: 62 degrees, 0% Chance of Rain, wind NW, 6 mph
TV: CBS
Radio: 106.5 WOKV
Raiders Coverage: Battle Red Blog
Can you believe it?  It's week 16. The NFL Regular season is over.  It was only a few months ago that we were thinking about Byron Leftwich throwing to Mike Walker, now we're talking about going to Pittsburgh and New England as the hot Super Bowl contender.  
I'm absolutely pleased to report that today's game against the Houston Texans is going to be like watching a pre-season game.  And I'm completely OK with that.  We won't see Fred Taylor, Maurice Jones-Drew, David Garrard, etc.  All that matters is leaving Houston healthy.
I don't beleive in needing a whole lot of momentum in going into the playoffs.  I especially don't like the idea of going against the Texans who are playing for a whole lot of pride at stake.  Jacksonville has nothing to gain, Houston is playing for their first (I beleive) non-losing season.  They'll be ready to play and have some energy.
Just for a heads up, pay attention to the Chargers and the Steelers.  We'll be going to one of those teams next week in the playoffs, so keep an eye on them.
etc: Offensive Lineman Stocker McDougle gets on my "shit list" for getting arrested in South Florida.  He's on Injured Reserve, and apperantly pushed someone during a business dispute at a landscaping company.  Lame.  He's charged with Assault.  Just another crappy thing for Pro Football Talk to get all "Cincy South" on us.
As usual, I'll be doing my World Famous Live Blog in about an hour.  I'd encourage you to come on by!