[editor's note, by River City Rage]: ESPN2 is showing their "NFL's greatest games, and it's featuring the 1996 game between the Jacksonville Jaguars and the Denver Broncos. It's a great flashback to that 1996 season. Kevin Hardy, Jeff Lageman, Mark Brunell, etc. It's on right now (noon EST) and it's a great way to get psyched up for the game.
VS.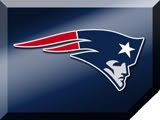 The Facts
Date: Saturday January 12th, 2007
Time: 8:00 p.m, Eastern Standard Time
Location: Gillette Stadium, In the great white north,
Records: Jaguars (11-5) , Patriots (16-0)
Patriots Coverage Coverage: Pats Pulpit
And here we are.  Divisional round of the Playoffs.    There's not much bigger than this.  And our opponent, they don't get much bigger than this either.  Our Jacksonville Jaguars are playing for history, not just their own, but league history.  They could be the giant slayers or they could be just another impediment to the inevitable.  
No matter what the challenge, this much is clear: all we have to do is win.  That's the beauty of the playoffs.  Every team is on its own, every team is the master of their fate, and anything can happen.  The multivariate realm of possibilities is mind boggling, even with the "safe bet" of divisional weekend.  Nothing, even with the Patriots is certain, because it's the playoffs. As the football cliche goes, it's a game of inches, and the Jaguars must get every inch they can get.
The Weather:
 Not in our favor: .Mostly clear in the evening...then becoming partly cloudy. Lows around 30. Northwest winds 5 to 10 mph. Gusts up to 20 mph in the evening.  Not nearly cold enough, wet enough, or windy enough to give the Jaguars any advantage.  Though, for the record, I think it's wonderful that the Jaguars advantage would derive from bad weather in the northeast rather than needing warmth.  No heated pants for us.
The Players:
The Jaguars have, in my opinion, no significant injuries to report for this game.  All players participated fully in practice except for Mike Peterson, and we knew early on that he'd be out of the picture.  Sure, we're missing some of our big names, like Marcus Stroud, but for a team that's played almost 19 weeks of football, we're in remarkably good health.  Even the Patriots are showing some potential injuries on the Offensive Line, but nothing of huge importance.  If nothing else, the Jaguars and the Patriots are playing each other in about as good of a form as possible.
Will they Win:
Let's be frank.  A Jaguars win would require extraordinarily powerful play by our team.  We'd need to be 100% mistake free, exert dominance on the offensive line, and somehow cover the multitude of Patriots receivers.  Nobody can make a mental mistake, not a special teams gunner, not a linebacker, and not a quarterback.  Penalties are a no no as well.  The only way this will happen will be for us to play absolutely perfect.  We came close against the Steelers and let it go in the 3rd quarter.  This is the game where we need more than the 3 big plays I've advocated all season.  We'll need the big sacks, the interceptions, the kickoff returns, the punt returns, and every inch of 5 yards per carry to keep this dream alive.
Last Minute Quotes:
Ron Jaworski had this to say:
Run defense - focus outside, not inside. When asked about vulnerabilities in the Patriots' run defense, Jaworski believes the soft spots are on the edges, not inside. "I think back to that Ravens game, Monday night, when they ran at Adalius Thomas and had success. I'm sure Jacksonville has broken down every game the Patriots played this year and seen the vulnerability on the edges and that teams have had success there. If they can get [left tackle Khalif] Barnes and [right tackle Tony] Pashos singled up blocking linebackers ..." As for whether there is a chance to run inside against Tedy Bruschi and Junior Seau, Jaworski said: "I don't see it inside. People look at the age of Junior [Seau] and Tedy [Bruschi] -- maybe some of the giddy-up isn't there in pass coverage -- but I don't bring up age in the run game."
Final Thoughts:
Sometimes in the course of human events it becomes inevitable to put ones faith in the improbable.  There is, on the surface, very little hope for our Jaguars.  If you take the stats, the players, the pundits at face value, there's almost no reason to watch.  But I beg to differ.  I beleive completely that on any given Saturday, two teams in the National Football League can meet and give each other one hell of a time.  I don't know about you guys, but I never anointed the Patriots king of the NFL.  I never signed up for the season of inevitability.  And I certainly won't let them walk their way into a Super Bowl.  Our Jaguars have had one hell of a season, but they've got one chapter yet to write.  We will not give up the fight.  We will not give up the fight, we will not give up the fight.  We've struggled through too much, fought too hard, seen too much fantastic play to let our Jaguars get psyched out by the New England Patriots.  
Shameless Metaphor:
The Jacksonville Jaguars are John McClane in Die Hard 2.  The Patriots, led by Colonel Stuart, are as unbeatable as possible.  They've got the guns, the strategy, the equipment, and the manpower to counter any attack.  But Jaguar McClane can get to them by being careful, methodical, and running a mistake free attack.  It's not going to be easy, it's not going to be pretty, but when it comes down to it nobody beats McClane.  Our Jaguars will have that gritty attitude .
Live Blog Madness:
As usual, I'll be here at 7:30 with the WORLD FAMOUS Live Blog.  Be there, or be square.
Final Words:
Yippie-kay-yay, motherfucker!