Update [2008-1-7 17:51:9 by River City Rage]:: Better late than never...
VS.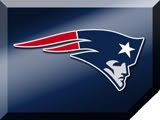 The Facts
Date: Saturday January 12th, 2007
Time: 8:00 p.m, Eastern Standard Time
Location: Gillette Stadium, In the great white north,
Records: Jaguars (11-5) , Patriots (16-0)
Patriots Coverage Coverage: Pats Pulpit
As much as I liked the idea of going to Indianapolis this weekend, Jacksonville will travel on Saturday to New England to face the Patriots. We survived the Steelers only to jump right back into the gauntlet in the second round of the playoffs.
I'm overjoyed to get the "no playoff win since 1999" monkey off our back, but there's little time to enjoy it considering who we're going to play.
We'll have a busy week here, especially now that I'm done travelling!
-Chris