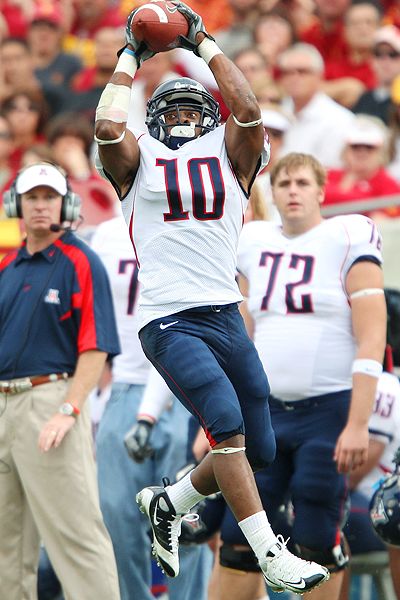 Derek Cox                        Jarett Dillard                 Mike Thomas
Make no mistake about it, this already has the feel of a very competitive camp.  First of all, it is very very crowded. There are a lot of players out there.  Things are very well organized.
A lot of the action took place too far away for me to see, so I can only report on the drills up close to me, the receivers.
The first drill was 15 yards up field, stop and curl back.  Troy Williamson is quick off the line, stutter step 1,2,3,4 curl back. Four mini steps to brake.  Mike Walker, four mini steps to break and turn. #19 Tiquan Underwood, four mini steps to break and turn. #87 Jarett Dillard two mini steps stop turn leap grab the ball.  Jarett Dillard can break and change directions.
Same on the 15 yards and cut over the middle.  You can see him actually assume a sitting position, just like in the video, before breaking.  The quarterbacks were not on target, but Jarett never missed even if he had to go high and to the left.  When the ball was six inches from his hands, it was as if everything became one and the ball was tucked away. 
J'uan Woods will not make this team.  He couldn't catch anything this afternoon.
Then the one on one drills.  I tried to see who was on who. One time Mike Thomas went up over Will James and fought for the ball along the sidelines.  He wasn't short when he leaped and fought.
Then Jarett DIllard #87 lined up and I wanted to see who he would victimize.  #21 lined up across, quick look at the program, DEREK COX!!!!  Now we had a battle!  Jarett went 15 yards, sat down and curled in. Derek was six inches off of him the entire time, you couldn't see any seperation. The ball was thrown and Derek stepped in front and snagged it.
The rotation came around again and there was #87 against #21 again. Jarett drove even harder, planted even deeper and came out quicker.  Derek had been driven off about three yards and the ball was thrown. Jarett heard footsteps and the Derek reached in and the ball flew high into the air. Derek tracked it the entire time and dove, missing it by about a foot.  Almost 2 for 2 on interceptions. 
Derek Cox looks bigger and confident on the field.  There is nothing that is going to happen in front of him that he can't handle. You can feel the confidence.
Troy Williamson broke deep twice and just waved at the ball as it flew by.  Maybe out of reach, I don't know.
In the 11 on 11, Eugene Monroe has a large behind.  That man is at least 200 pounds from the waist down.  He moves like he is on ice skates, just beautifully and effortlessly.
Tra Thomas is a large man but tall and equally balanced throughout his body.  Just a superb looking athlete.
#23 Rashad Jennings broke through the line and juked one way and then the other in an impressive up the middle run. He caught my eye.
Derrick Harvey got the edge and was closing in on the QB when the dump off pass to Marcedes Lewis was caught, two steps and a drop.  OHHHHHHHHH we all went.
That is about all I saw today, except Tiquan Underwood looks really nervous and better settle down fast.  He wasn't smooth or very effective.
It was a very different feel already to the season and it was a pleasure to see real receivers running real routes.  A lot of plays to the running backs. MJD broke free and Rashean Mathis took off after him and they raced for the goal line. MJD scored.
It looked like fun out there.  To any player who doesn't wake up quickly, you will be gone.  The refocus is complete, football was the order of the day today.
Get out there is you can, they are beginning to put on a show.
 - Terry