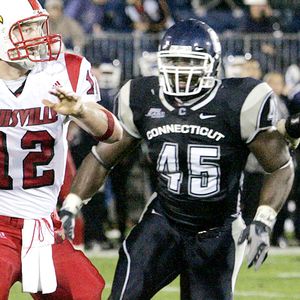 Cardinal... Yum, tastes like Chicken!
Background:
Julius Williams is a beastly physical specimen. He played DE at UCONN and was a major part of the squad's success on defense. Williams missed getting a combine invite by only one vote; this likely contributed to his slide in to UDFA. Williams is known for his uncommon strength for a college player. He can already bench press 450lbs, and even shifted to DT on occassional nickel situations because his strength allowed him to act as an interior lineman, despite his relatively low weight. Williams comes from Decatur, GA, and jumped at the opportunity to play for the nearby Jacksonville Jaguars. 
Comparison to current NFL players:
I found a comparison between Julius WIlliams, Quentin Groves, and Everette Brown. 

Julius Williams' stats over his last two college seasons were:
2008 - 36 TT / 9.5 TFL / 6 Sacks
2007 - 35 TT / 12 TFL / 8.5 Sacks

Note the similarities between Williams and Everette Brown and Quentin Groves:

Everette Brown - 6'2" 256 Lbs - 4.65/40
2008 - 36 TT / 21.5 TFL / 13.5 Sacks
2007 - 36 TT / 11.5 TFL / 6.5 Sacks

Quentin Groves - 6'3" 250 Lbs - 4.46 to 4.56 /40
2007 - 38 TT / 7 TFL / 3 Sacks
2006 - 35 TT / 11 TFL / 9.5 Sacks
Interesting comparison, no? Julius's stats are almost identical to the other two players collegiate records. I am not suggesting that Julius WIlliams will be an NFL star, but I am saying that there isn't much of a drop-off between past draft picks and UDFA. 
Scouting:
As mentioned above, Williams was not a combine invitee. However, he shined at his pro-day work-out and recorded major numbers. Showcasing his NFL calibur strengh, Julius put up 36 reps on the bench at 225 lbs. That's one shy of the 2009 combine best of 37. Julius also recorded at 41" vertical leap, which indicates his explosiveness off the line of scrimmage. His 40 yard dash was 4.58 seconds, good enough for a DE or rush 3-4 LB. 
Showcasing both his willingness to improve, and his love of the weight-room, Julius had this to say: 
"I'm ready to go to the weight room right now," Williams said from his home in Decatur, Ga., on Sunday night. "I'm so excited. It didn't turn out the way I wanted it to but all I wanted was an opportunity and now that I've got that opportunity, I'm going to give 110 percent on everything I do."

Williams visited with the Jags. He said they talked to him about playing defensive end but the team will be playing some 3-4, too, and would put him in as an outside linebacker to rush the passer.

"My mind-set right now is to give them everything I've got wherever they want me to play," Williams said.
Notice: "He said they talked to him about playing rush LB in a 3-4." The Jaguar's will be incorporating a unique variety of defensive fronts, and having a wide variety of players available to run the system is key. Quentin Groves is NOT a star OLB. Period. He wasn't eye-popping at Auburn at OLB, and I doubt very seriously he'll make a huge impact in the NFL at that position. Julius Williams may have a chance to cement his roster spot if he can prove that he's the club's best option at 3-4 OLB, on the occasions that the Jags use such a set-up.
-Collin