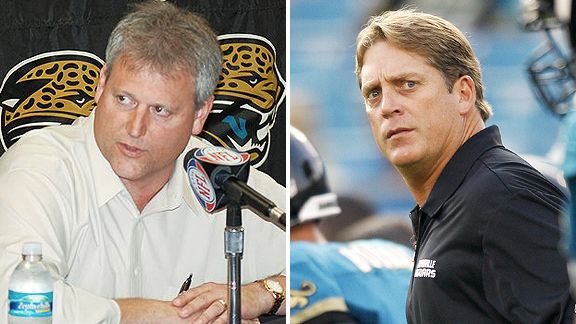 One word… Character, or lack thereof. Previous incarnations of the Jacksonville Jaguars haven't been consistent in their play from year to year, despite very little turnover in players during the off-season. This is due to both poor first round selections, and signing big name players with all the talent in the world, but no real heart. Jerry Porter and Drayton Florence were unmitigated disasters that cost us 16 million in guaranteed money, for what amounted to a nickel corner back and 11 catches. This lack of production out of free agents is reminiscent of the old era of Jaguar football. No longer do we have to wonder if the player we got was the player we thought.
Torry Holt, Sean Considine, and Tra Thomas are all legit players in this league. However, they still must prove themselves on the field in order to reach the maximum dollar amounts of their incentive laden contracts. Tra Thomas has said in the past that he wants continue to play for another 5 years or so. The Jaguars inked the 35 year-old tackle to a three year deal during the off-season, and he'll have to start to reach his incentives.
This should make for an interesting camp battle between Thomas and Monroe. I said before the draft that I thought Monroe was the best OT in the draft. In my view, he's got all the tools to be successful; he's an accomplished pass protector, he's got long arms, his size is ideal, and he has a quick recovery step, a strong punch, and is a heady player. Monroe is clearly more ready to run block than Jason Smith, and I thought there was virtually no chance he would fall to us at #8.
When Monroe was sitting there for the Jags at number 8, I almost fell out of my chair. The choice was obvious, BAP means BAP. Gone were the days of scouting only players that fit our team's need for that particular season. We now choose the best player available, something I am confidant will continue for years to come under Emperor Gene. The fact that this draft class is filled with leaders bodes well for the future of the franchise.
We lost our stalwart RB and de facto leader in Freddy T recently, something that plucked at the heartstrings of every Jaguar fan. However, when we examine the players selected in the 2009 draft, we find men of character and leadership, ready to step in and improve the chemistry of a locker-room decimated by drug addled me-first mentalites. Looking at the 2009 Jaguars, we see men who put their families first, men who graduated in less than 4 years, men who were voted as team leaders on their college squads, and men who LOVE to play the game of football.
We find the same when we examine the players signed in free agency this year as well. Tra and Torry are both proven leaders whose effort on the field is as consistent as their behavior off it. We even notice a difference in how the front office approaches free agency. Gone are the days jumping the gun to offer players big time guaranteed money just to keep them from visiting other teams. Torry was allowed to leave, but he chose to come back to the Jags and sign. Shack wouldn't have allowed this to occur. He was a man who targeted players in both the draft and free agency, and got those players come hell or high water. Gene is a different kind of leader, and such behavior will not be seen from him, I guarantee it.
Welcome to the third era of Jaguars football, an era that will be marked by leadership, frugality, and a team-first mentality. Say good-bye to being consistently… inconsistent. 
-Collin Streetman