Much has been made of the Jaguars' defensive woes. So, for just a little bit, let's celebrate the success of the Jaguars' offense. David Garrard has been a stable quarterback since taking over permanently in 2007. Marcedes Lewis has emerged as one of the best tight ends in the league. Complimenting them, Maurice Jones-Drew, also known as MJD, is one of the premier runners in the league. The Jaguars also have a duo of young, physical tackles, Eugene Monroe and Eben Britton, that should be paving the way for the run and pass for years to come. Finally, the Jaguars have a pair of up and coming wide receivers, Mike Thomas and Mike Sims-Walker.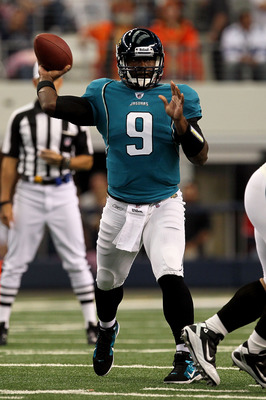 Indeed, the Jaguars don't have the most potent offense in the NFL, nor do they have the most consistent. They do, however, have an offense that could quite possibly carry them into the post-season next year if their defense can step up their game to average. Consider this, do the Steelers have an explosive offense that can score at any moment? Did the Steelers throw it all over the yard to get into the Super Bowl? No. The Steelers dominated teams with their defense and simply got it done on offense. With another year in the books, this offense looks to be the best unit the Jaguars have fielded since the Mark Brunell era.
I didn't even mention some of the other young talents on offense. Jason Hill really showed something late in the year. Tiquan Underwood has lights out speed and may develop into another deep threat as Hill seemingly has. How about Deji Karim? He didn't get the ball handed to him much, but when he did, he generally gained solid yardage. On top of that, he was the kickoff return man for one of the leagues best special teams units. He had 50 returns with a 25 yard average. That's 1250 yards on kickoff returns alone. Say what you want about the defense, but this offense could be special, and with Dirk Koetter calling plays, the sky's the limit.