While the bulk of the Jaguars' woes this season were defensive, many of the Jaguars' faithful have been demanding QB David Garrard's head. I'm here to be the voice of reason. I'm not saying that the Jaguars have an elite quarterback, but let's consider the alternatives. The Jaguars had multiple shots to take Brady Quinn. How's he looking these days for the Browns, err I mean the Broncos (he is still a Bronco right?). I'm going to ignore the fact that the Jags drafted the equally talented Reggie Nelson instead of Quinn. Here are the top quarterbacks and how they stack up.

Blaine Gabbert, Missouri Here are the raw numbers. Gabbert threw for 3186 yards, 16 touchdowns, and 9 interceptions in 2010. He was also sacked 23 times this past year. He's listed as 6'5" and weighs 235 pounds. Unfortunately, I didn't see Gabbert play at all this season, but all the tangibles seems to be there. The question is, can he make the all-important smooth transition to the pro game?
Cam Newton, Auburn Newton threw for 2854 yards, 30 touchdowns, and only 7 picks in 2010. On top of that, he ran for 1473 yards and 20 touchdowns. I seriously doubt an NFL team would want a first round QB running around too much, but his size (6'6", 250 lbs.) allows him to be a real asset on short yardage situations. And oh-by-the-way, he has a cannon attached to his shoulder. It should be noted that he does have a shady past. It's yet to be seen whether that affects his draft position.

Jake Locker, Washington Here's what we know. Jake Locker is 6'3" and 230 pounds. He threw for 2265 yards, 17 touchdowns, and 9 interceptions. Here's what we don't know. Is this kid as good as last year, or was that season a one-hit-wonder. He showed his resourcefulness down the stretch including a huge win against Nebraska in the Bridgepoint Education Holiday Bowl. I think Locker has real talent that needs more time to develop. This guy might be wearing teal next year.

Ryan Mallett, Arkansas Here's another guy with all the tangibles. He's tall (6'6", 238 lbs.), and he can throw (3869 yds., 32 TDs, and 12 INTs). He's another guy with a cannon for an arm, but he has been known to be somewhat wild with his throws. On the other hand, he gets the ball out of his hands, even with half the defense draped over his back. This is another guy that needs some time to get his full potential. Of the four, the latter two are the ones the Jags could target to be the quarterback of the future.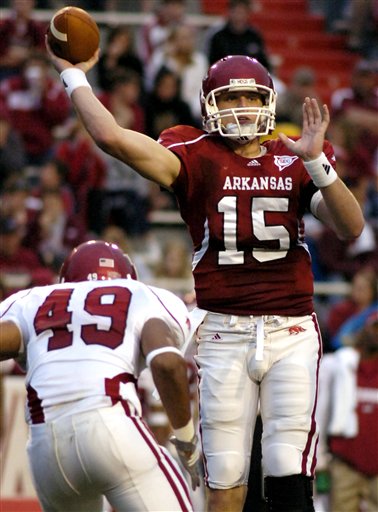 It should be noted that the Jags seem to have some interest in Pat Devlin out of Delaware (cue the: isn't that where Joe Flacco was from question, and yes it is). From what I gathered, Devlin doesn't have the arm that Flacco does,but he's got the brains and utilities to get the job done on the next level. We'll learn a lot more about him by the time the draft rolls around. It's also notable that Colin Kaepernick and Christian Ponder could be potential picks for the Jags. Simply put, the Jags need a quarterback, and there are tons of options and possibilities available in the upcoming draft.
For the foreseeable future, David Garrard is the Jaguars' quarterback, but that may not be the case this time next year. As always thoughts are welcome, and feel free to email me, and I'll try to get back with you in a timely manner.
Here's a link to my original article.