Second-year defensive end Andre Branch has drawn a lot of ire from Jacksonville Jaguars fans, as up until the bye week this season he's been viewed as a massive disappointment. A second-round pick in 2012, Branch flashed a lot of ability in training camp and the preseason, but at one point found himself benched during the season and his playing time extinguished.
There was excitement about Branch in the offseason however, as the Jaguars moved to the style of defense the Seattle Seahawks were running, utilizing a "LEO" end, which was a hybrid of the 3-4 outside rush linebacker and a 4-3 right end. Branch seemed to fit that position, but his struggles continued in training camp and the preseason to the point where many thought it was very possible he would get released and/or traded.
Those struggles continued during the season, as many Jaguars fans began to focus on Branch in games and even nicknamed him "The Windmill" for how he flailed his arms while he tried to bend the edge around offensive tackles.
After the bye week however, Branch has seemed to turn his play on. In the past three games he has six hurries, three hits on the quarterback, two sacks and has been noticeably more disruptive.
So what happened?
First and foremost, he's playing with full effort. Jaguars head coach Gus Bradley noted this in some of his press conferences when asked what had changed. Not only is he playing with full effort, but he's also being put in a position to succeed by the coaching staff. They're not asking him to come off the edge and bend the corner much anymore. They're twisting him inside, looping him around the line and bringing him on stunts to give him better match ups.
For instance, Branch had a pretty good day against the Arizona Cardinals, however his sack in that game was more clean up duty than anything he did on his own.
On this particular play, Branch basically gets a free shot to the quarterback because the left tackle blocks inside. Jeremy Mincey gets quick pressure on the other side which forces Palmer into Branch for the clean up sack on the play.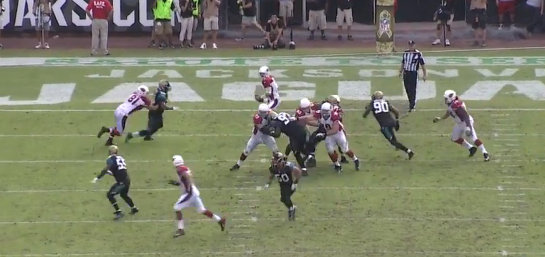 Against Arizona, the Jaguars didn't do a ton of stunting with Branch, but he was still effective getting pressure on some plays because of how he was lined up when rushing the passer.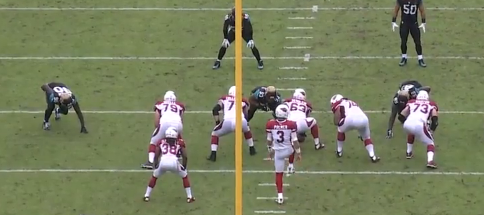 As you can see, he lines up extremely wide, which gives him a "runway" towards the quarterback limiting his need to bend the edge.
Against the Houston Texans however, rather than lining him up extremely wide and letting him loose, the coaching staff implemented quote a few stunts and loops for Branch. The most noticeable play where this happened was Branch's sack early on in the day.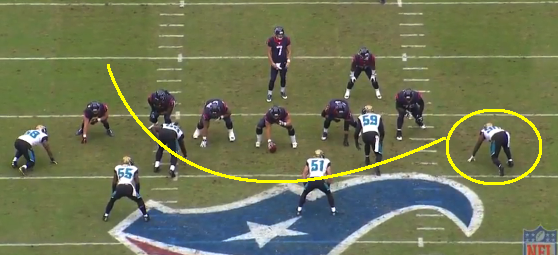 I'm not exactly sure what to call this front that the Jaguars use, but it has Babin lined up as a LEO, Sen'Derrick Marks as a four/three-technique (between the guard and tackle) with Ryan Davis standing up as a rusher and Branch lined up as the other LEO. At the snap, Branch immediately loops all the way around to the other side.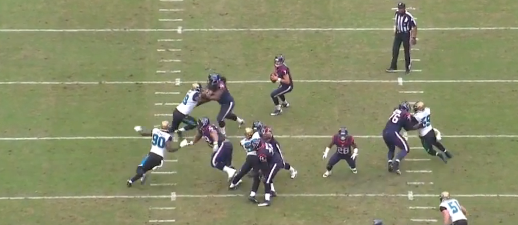 With Branch looping all the way around, he can come free around the edge and chase down Case Keenum.
Later on in the game, Branch was utilized again on a stunt that saw him getting good pressure because he didn't need to come off the edge and beat the offensive tackle, one-on-one, which is something he still struggles with.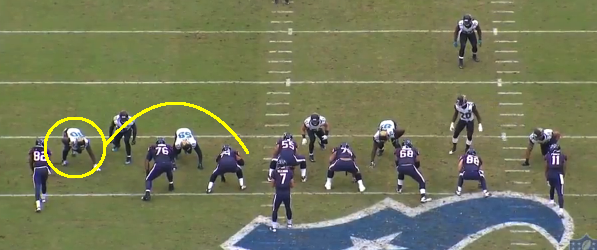 Once again Branch is lined up wide as the LEO end next to Ryan Davis this time. At the snap Davis crashes inside on the rush while Branch loops around to the inside to try to beat the guard. Keenum feels the pressure however and tries to roll out, but because Branch is not engage with the guard on the stunt, he can cleanly come back across and apply the pressure on the quarterback.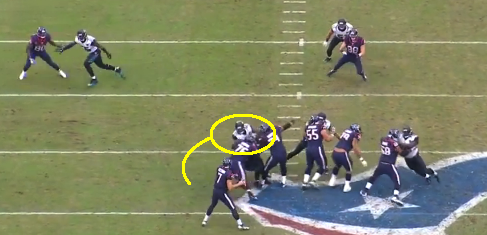 He doesn't get a sack on the play, but it forces Keenum to throw the ball incomplete.
Branch has been better since the bye week, more so in the sense that he gives full effort on all his plays now, which is something Gus Bradley mentioned. He also mentioned that they're now working on pass rush moves with Branch, and it's clear that's still a big area of need for him. He still struggles one-on-one with offensive tackles once they get their hands on him and stand him up.
I'm not ready to say he's taken that next step yet, even though we're seeing a bit more production on the field, but some of it is smoke and mirrors right now. That's not bad really, either, as it shows the coaching staff knows how to use him in an effective manner right now.