The Jacksonville Jaguars are 1-9 through the first 10 weeks of the season as they head into their much needed bye week. While they get things sorted out, we can begin to look ahead a little bit to what the team could do moving forward during the 2015 offseason.
Since it's the bye week and a Friday, I figured a conversation post about where the roster could be headed would be interesting.
The Jaguars are projected to once again have loads of cap room, roughly $42 million and likely more depending on how much the cap goes up and if they decide to move on from certain players. The team was "active" last year in that they signed more than handful of players, but really they only gave out one big contract, to offensive lineman Zane Beadles.
From some things Jaguars owner Shad Khan said in London last week, it sounds like the Jaguars will attempt to be big spenders this offseason, and in reality they probably have to to meet the minimum spend policy under the current CBA.
"We were active this year - look at our defensive line, which is pretty good and they're mostly free agents," Khan told the Florida Times-Union. "We're going to be very active for a number of reasons. Other teams don't have
For the record, I always want to once again hammer home just how awful the Jaguars roster that general manager Dave Caldwell inherited.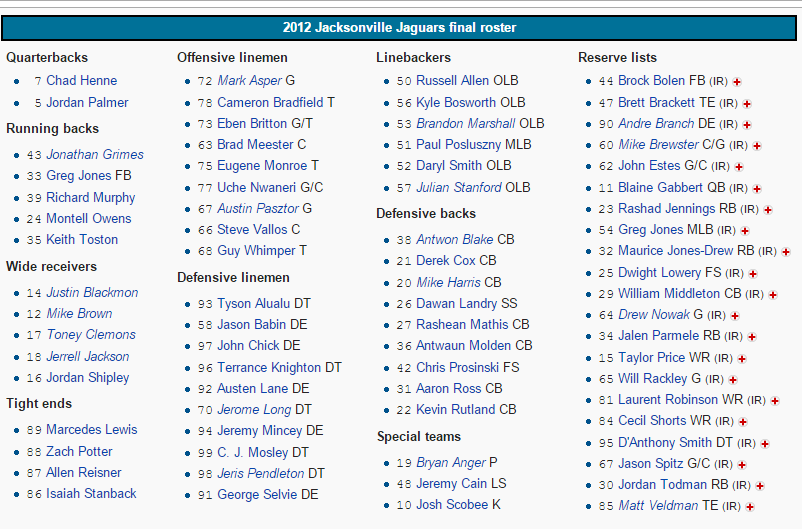 Yeah? Yeah. Ok.
Players who could be gone in 2015
It's likely that a handful of veterans on the 2014 season could be missing in 2015. Some because of their cap hit vs. production and some just because they're not very productive. Here we'll look at some players who fit that category and I'll give my opinion on which way I think the team should go.
Paul Posluszny, 30: My view on Poz won't be a shock to anyone who follows me on Twitter or reads Big Cat Country on a regular basis, but I think the Jaguars should move on in the offseason. He's 30, he's a two-down linebacker and his cap hit is nearly $9.5 million. Releasing Poz, who really hasn't been missed since he went on injured reserve, saves the team $7.5 million on the cap, freeing them up to front load deals even further if they do plan to be big spenders. The position can be filled either potentially by someone like J.T. Thomas, Jeremiah George or even someone in free agency or the NFL Draft. I could see Poz being back simply because coaches love him, but in reality the Jaguars need to get a lot more athletic at the position.
Marcedes Lewis, 30: I'm a fan of Lewis and I think he gets beat down by fans pretty unfairly when you consider the whole situation, but I think it's possible he's off the team next season. Personally, I would keep him because I still view him as a worthwhile player, but he does carry a big salary and the team can save $6.8 million by releasing him. The tight end market in free agency isn't super flashy, but it is very interesting and I could easily see the Jaguars jumping on that market.
Cecil Shorts III, 26: We've talked about this plenty of times before. Personally, I would bring back Shorts because I don't think he's going to cost very much, the team is super young at the position and he's a great locker room guy. He's also pretty productive when he's healthy and I don't think he'd have an issue being the No. 2/3 receiver on the team going forward if a young guy emerges. Shorts' deal ends after the season, so there wouldn't really be any savings.
Chris Clemons, 33: Clemons is a bubble roster guy for me next year. He's come in and done exactly what you expected him to, help solidify the pass rush, but he's not that go-to pass rusher anymore. He's still productive but I'm assuming the Jaguars either spend on a pass rusher in free agency, pick one in the top of the first round or potentially both. I also think the team would like to keep Andre Branch and let him play out his final year and see if they can get consistency out him. Cutting Clemons saves $4.5 million on the cap, as his deal was essentially a one-year deal with subsequent one-year options.
Roy Miller, 27: Miller is a free agent at the end of the season and I'm really unsure of the direction the team will go. It would make sense to re-sign him, because he's certainly been much better this season than last. However they do have a young guy in Abry Jones who can play the same role and provides a little more of a pass rush. The nose position is also one of the cheaper defensive line positions in the league. Personally, I'd probably re-up him on a two or three-year deal.
Josh Scobee, 32: Scobee has one year left on his current contract and ultimately I believe the Jaguars will let him play that out, but if he's released he does save $3.45 million on the cap. Scobee was a reliable kicker for a long time here and I still think he's good, but it's probably close to the time the Jaguars might go looking for his replacement and bring in some legitimate competition in training camp.
Tyson Alualu, 27: I've long been an Alualu defender, because I think people hold being a Top 10 pick too much against him, but on the field he's a decent rotational player. I do think the Jaguars finally move on from Alualu however and let him walk in free agency. It's a position that the team can look to pick up in free agency or the draft pretty easily because it's not a primary pass rusher position and those guys can be found.
Toby Gerhart, 27: I'll say out of the gate, I don't think Gerhart will be released by the Jaguars. I am only mentioning him because I know if I left him off everyone would ask about it. His cap hit is only $2.5 million, which is what the team will save if he's cut, so he's not a strain if he's a backup. Now, if Storm Johnson takes a big leap this offseason or if the team drafts a running back in the mid-rounds, it's a different story with Gerhart.
Possible 2015 NFL Free Agent targets

Photo Credit: Kirby Lee -- USA Today
And now the fun stuff. Here are some positions and free agents I think the Jaguars could take a look at in the offseason.
Tight end: The Jaguars haven't had a reliable passing threat at tight end since Marcedes Lewis was allowed to actually run passing routes in 2010. He's been strangled by circumstance and forced to stay in and block quote a bit, even on passing plays, but I think this is a position group the team will target in free agency. There are some bigger name guys like Julius Thomas and Jordan Cameron, but each have a little bit of a scary factor to them that may scare off big money. For Thomas, he's productive with Peyton Manning. That's always a big red flag. For Cameron on the other hand, he's had some injury issues, concussions namely.
Some other under-the-radar type players that I think would be better to look at are someone like Charles Clay, Jermaine Gresham, Lance Kendricks or Niles Paul. Clay in particular I think is a very underrated all-around tight end.
Defensive end: The Jaguars pass rush is much better than it has been in years, but they still don't have that pass rusher that the opposing team's offense has to key in on and identify. There are some big name pass rushers projected to be free agents such as Cliff Avril, Brian Orako, Greg Hardy, and Jason Pierre-Paul. I could see the Jaguars going hard after someone like Avril, because the age is still right, he's been productive on two different teams in different schemes and notable was successful in Seattle's scheme. There's also an interesting guy like Brandon Graham, Jabaal Sheard and Justin Houston out there, but I'd be stunned if Houston actually hits the market.
On the other hand, if the Jaguars let Tyson Alualu walk the could go fishing for another cheap strong-side end to backup Roy Miller. Some guys I could see the team looking at there include Adrian Clayborn, Alex Carrington or Allen Bailey. Ultimately though, I think the draft is where you'd look for this player.
Linebacker: The Jaguars have some good youth they can develop here like Telvin Smith, Jeremiah George etc., but they definitely need to find an impact veteran starter at this position. The perfect target could hit the market in K.J. Wright, because the Seahawks have seemed to have found some good young gems at the linebacker position and may be hesitant to pay Wright with some impending extensions coming up (*cough* Russell Wilson *cough*). There's also someone like Sean Weatherspoon who's scheduled to be a free agent, though he's coming off a major injury. Others that could hit the market that would be worth looking at include Nate Irving, Bruce Carter and Mason Foster.
Safety: I think free safety is a position the Jaguars will target in some fashion. Nothing against Josh Evans, I think he's an adequate starter, but he can be upgraded. He's also a player I think would be an excellent "third" safety. The free agent market here is sketchy at best. There are guys out there like Devin McCourty, Rahim Moore, Louis Delmas and Marcus Gilchrist on the market but I'm not sure how many of those can be considered center field type players, because honestly I haven't really watched them closely enough.
Other than that, I'm sure there are some guys they could pick up on bargain deals for filler/band aid positions, but those are the positions I could see them spending on.