The Jacksonville Jaguars finally seem to have a secondary they can be proud of. With Davon House and Prince Amukamara starting outside at cornerback and Aaron Colvin at nickel corner, as well as Tashaun Gipson becoming head coach Gus Bradley's prized possession at free safety. Johnathan Cyprien has taken his lumps, but he has been serviceable in his three years with the team.
But you know who hasn't been serviceable in his time with the team? Dwayne Gratz.
Not only has he not been serviceable, he's been outright bad. But, somehow, someway, Gratz still has a spot on the Jaguars roster, and the team has yet to imply that his roster spot is in jeopardy. Why?
I won't get too much into how bad Gratz has been, but it is extremely confusing as to why he is still on the team. As of now, Gratz looks to be first up in the cornerback rotation, and that's something that needs to and should change when the NFL draft comes around.
Cornerback certainly isn't a pressing need. The starting corners are set. The nickel corner is occupied. But the depth after those three? Absolutely void of life.
Sure, Nick Marshall has been a fun experiment who has flashed potential, Demetrius McCray looked good in 2014 but fell off of the face of the Earth last season. Dwayne Gratz, as previously stated, is #bad. Peyton Thompson is also #bad. Rashaad Reynolds is unknown, really, so no.
That's where the draft comes in. Defensive back is always a deep prospect group in the draft and there always seems to be a playmaker found throughout the middle and late rounds of the draft at the position. Seattle Seahawks legendary safety Dwayne Harper (1988, 11th round) and current cornerback Richard Sherman (2011, fifth  round),San Diego Chargers and New England Patriots safety great Rodney Harrison (1994, fifth round), and currentCarolina Panthers cornerback Josh Norman (2012, fifth round), are some of the most notable defensive backs to be chosen in the mid/late rounds of the draft.
The Jaguars need to select a cornerback in the middle rounds of the draft, but who could they take? Here are some options:
Xavien Howard, CB, Baylor
Howard is entering the draft after starting at Baylor for two seasons, and in those two seasons he was certainly a ball-hawk, gathering ten interceptions in that time frame. Howard is also very physical off of the line of scrimmage and excels in man coverage.
So, why is Howard looking like a mid-round pick?
Howard is projected to be selected in the late second/early third round, but I see him falling in the latter. While Howard excels at making plays like this.
He is also prone to getting lost in zone coverage, especially in receiver sets, as seen below:
Ouch.
Howard is an excellent press cornerback who could thrive in the Jaguars defensive scheme. However, he is also a liability in zone coverage, causing his stock to fall. He should be available in the third round, and if so, he could very well be worth a look as a rotational man cornerback.
James Bradberry, CB, Samford
James Bradberry is certainly a name to watch out for. A redshirt senior out of Samford, Bradberry enters the draft hoping to be selected on day three, and is projected to be selected around the fifth round.
I like Bradberry as a prospect a lot, he is consistent in both zone and man coverage, as well a physical athlete who can make plays.
However, we must remember where he went to school. While I think Bradberry could be a nice day three pick, he played his whole college career against FCS teams, so he never faced elite talent.
Bradberry does have something that could be valuable to the Jaguars when the draft comes along though -- a notable resume, as he was a member of Gus Bradley's South Senior Bowl team this year.
Eric Murray, CB, Minnesota
I have Murray ranked higher than most do, because although he didn't have the flashy numbers that many defensive backs did in college, he was still a shut down corner in his time at Minnesota. He was an All-Big 10 corner in his three starting years with the team, and his coaches awarded him with team defensive back of the year in 2015.
Murray doesn't have great numbers. In his career he only recorded two interceptions and 24 pass breakups, but he still showed he can be a lock down corner at the next level. He is physical on the outside, possesses ideal frame at 5'11", 199 lbs, and is great at getting off of blocks to make tackles.
This play proves both points. Murray (top of the screen, No. 31) gets the outside receiver knocked out of the play with ease, and when the Iowa quarterback hits the slot receiver across the middle, Murray immediately fights off and breaks his receivers' block to make the tackle, and boy is it a violent one.
Murray is projected to be a late fourth round pick by most analysts, but if we're to look less at his numbers and more at his film, he shows he can be a day two selection.
Harlan Miller, CB, Southeastern Louisiana
Another small school prospect, Miller is a very aggressive corner who wins his matchups in press coverage. He stands at 6'0", however he only weighs 182 lbs, which could be his downfall for his draft stock along with his career competition.
Miller is a dominant run defender and excels in press coverage, which is certainly a plus in the Jaguars' scheme.
And as seen below, he also has incredible ball skills.
Miller's film is great, but we must remember he weighs about 20 pounds less than an ideal corner should weigh in the Jaguars scheme, and his competition, like Bradberry, was mostly FCS. Miller should be looked at as a fifth round pick.
All of these prospects are nice, and could certainly develop well in the NFL, but they will need to be put in the right system to flourish. Jacksonville offers a system that all of these prospects could thrive in, if developed correctly.
If the Jaguars select one of these cornerbacks in the middle and late rounds, they very well could find their diamonds in the rough to replace Dwayne Gratz in the cornerback rotation.
Because, as we all know, when we're watching the Jaguars' defense in the future, we'd rather be watching plays like this...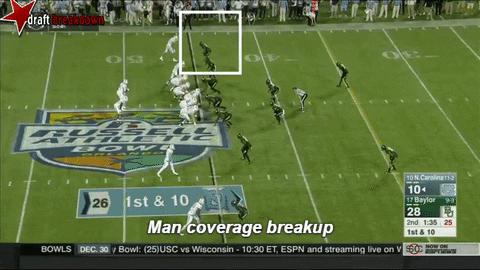 ... than plays like this (pictures via Cole Hartley):
Whew.