The Jacksonville Jaguars are 25 days away from their preseason opener against the New York Jets and that means we're counting down the top plays of last season.
We're starting things off with Tyson "Offensive Weapon" Alualu getting open and making a decent catch for a first down against the Tennessee Titans.
No. 25: Blake Bortles to Tyson Alualu for... a first down?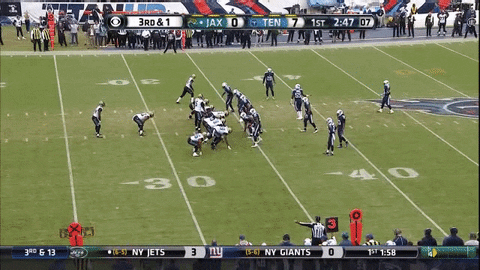 The mere fact that Alualu gets away from coverage by turning up field is amazing by itself. But he shed a would-be tackler and got a few extra yards. As Cole Hartley pointed out in analyzing the play, the Spider 2 Y Banana should be renamed the "Fa'apaleleali'iiviiga Spider 2 Y Banana". Sorry, folks, it's done. Go Jaguars.
Let's hope Alualu gets more chances to make plays on offense when the Jaguars win a game though.
Does Tyson Alualu's catch deserve to be in the top 25 of 2015? Let us know in the comments below!