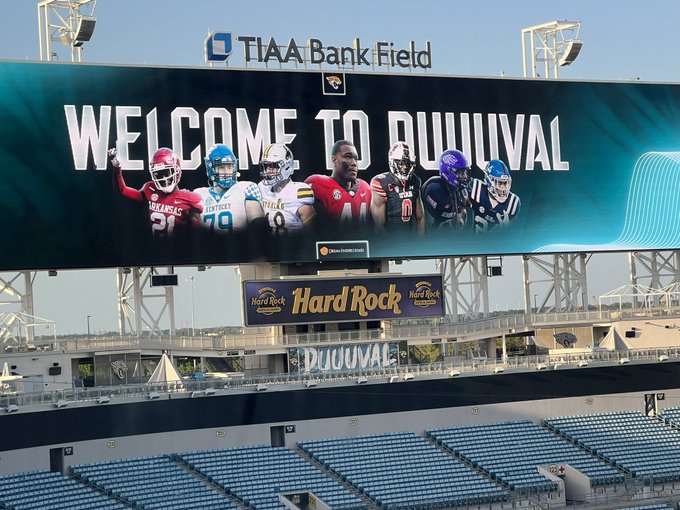 What the Jags should start leaning towards this summer
2022 off season was a wild one for the Jaguars in almost every area. The coaching/gm search, to the fire Baalke movement, to how the team approached FA and draft (in the eyes of the fans), to the ever most popular where do we go FROM HERE!!!
I am going to approach this off season with the approach of didn't win with you, let us try and win without you and develop our young guys under this new regime. This approach will be boo'd and looked at with skeptical eyes. But this is the offseason. This is the time of dreamers both players who want to make rosters and fans who want their team to compete. My dream is to at least pick in the middle of the 1st round next year.
I am going to go over each position group as it stands and talk about what I would to based off my perception of the FO moves this off season. Again, this is just my opinion based off no leaks, rumors, or and factual information. without any further ado, "My Unpopular Vision".
QB (2) - Lawrence, Lutton / Beathard
Easiest one for the foreseeable future. Trevor will take a leap with this regime and projected system. As for the other 2 I would trade/cut Beathard and develop Lutton. We have how many former NFL Qbs on staff. Move would save us about 1.7 mil and might net future draft capital.
RB (4) - Etienne, Robinson, Conner, Armstead / Sargent, Cottrell
I went with four because our top 2 are coming off injury. Without knowing how they will come back and with chance of reinjury seemed prudent. Conner makes three mainly because of the draft position compared to remaining. Number four was a tossup for me but I like Armstead and his style of running. With keeping four I think him and a bottom TE split FB responsibility.
WR (6) - Kirk, Z. Jones, Austin, Shenault, Treadwell, Winningham / M. Jones, Agnew, Godwin, Jones, Hammon, Cotton
First thing first, I know M. Jones and Agnew are better than majority of my top 6. We are not contenders we are hoping for at most to be competitors. Both could potentially get us future picks and save us a combined 6.7 mil. let us be honest neither are in our long-term plans. the FO brought in several different return type players. Top 2 are obvious why they are listed here and I would run primarily on same side when using more than 2 wrs. With the lack of true x-type in comes Austin. I like his highlights and heard he was very under-utilized in Kelly's offense. So why not give him the chance to get there. My depth Shenault (deserves one more shot), Treadwell (came on last year), and Winningham (let's be honest didn't win with others so why not). Side note I like his name.
TE (4) - Engram, Arnold, Farrell, Prince / Manhertz, Gunter
Top 2 TEs are intrenched in their spots as the starters. With that said I think Farrell can fill the void left behind with the eventual trade/cut of Manhertz (1.9 mil saved). Prince is my developmental fourth. Keep reading that we got a steal in him and all know how Doug likes his TEs.
OL (9) - Robinson, Taylor, Fortner, Scherff, Little, Richardson, Bartch, Shatley, Traore / Hocker, Okafor, Ford, Cronk, McDermott, Tatum
Another area of intrigue. Yes, Taylor has said he will not play guard. Hope is with the new regime and veteran in Scherff can show him that his value is there more than tackle. I feel with him it is about the money. Scherff is the perfect example to show him that can get paid as a guard. Taylor was a flag machine. I think that is because he is too slow to set edge and he jumps. This is fixed with a move inside. FO and Coaches need to take a hard stance with him and let him this is how he helps the team. As far as depth the firat three have consistently been praised for their versatility. now for Traore I really just like his size.
DL (7) - 4 DEs and 3 DTs – DEs Walker, Key, Smoote, RRH / Ledbetter
DTs Fatukasi, Hamilton, Tufele / Brown, Antwine
My front 3 since everyone is saying that we are going to be a multiple front with a 3-4 base starts with Walker. Been seeing a lot of mentions of him working with our D-line coach and not our LB coach (I know prob both and site has OLB). It should look like this Walker, Fatukasi (big FA contract), Key (breakout last year). For the depth we turn to Smoote, Hamilton because they earned their spots, Tufele is versatile and cheap. RRH only stays because of contract. I would trade Brown for whatever can get and save 3 mil.
EDGE/LB (8) - 4 outside and 4 inside – Edge Allen, Lloyd, Smith, Dixon / Chassion
ILB – Oluokun, Muma, Russell, Quarterman / Sullivan, Jones, Morgan
Since 3-4 base is the primary package, I wanted to get as much talent on the field as possible. I went with Allen, Muma, Oluokun, Lloyd. I feel this setup overloads the offense having Allen and Walker come from the same side. Also pairs a vet and rook on each side. Depth I went with Smith (drafted last year) and Dixon (udfa) on outside with Quarterman and Russell on inside (both have earned). As far as Chassion I make fans happy and trade for capital. We take a 1.8 mil hit. Again, couldn't win with so time to give others a shot.
CB (7) - Griffen, Williams, Campbell, Herndon, Junior, Brown, Thompson / Rusnak, Claybrooks, Crawford, Saber, Franklin
A lot will say WHAT seven corners. Stick with me for a second. So where am I coming from. This area was addressed in 3 stages already. FA, The Draft, and now UDFA. It seems to me that the FO office thinks we need fresh blood here. So, the top 3 spots are locks and Herndon has pretty much earned his spot. The versatility and potential is why the back three make it (meaning safety depth). We drafted 2 of 3 and the other was a priority UDFA were my factors. FO office wanted new blood here we give it to them.
S (3) - Jenkins, Cisco, Thomas / Wingard, Ford
Only kept 3 because of the versatility of the CB room. Jenkins isn't going anywhere this year (contract). I would run Cisco as the free safety and let him do what he does and ball hawk. Thomas makes it because I feel he can play both safety spots. Give the fans what they want and trade/cut Wingard and Ford. Both could save 4.4 mil and possibly get us more.
The three main things I have been hearing all off season is the promoting of Value, Versatility, and development of in-house talent. With those 3 things in mind that is how I approached this. By making some tough and probably unpopular choices for some this is where I ended up. With the trades and cuts we can save roughly 15.9 million based on sportrac salaries and dead cap hits. According to same source with all contracts including proj. Rookie contracts we would be negative 6.9 mil. With these moves we can move towards about 9 mil to the positive. That plus the 23 mil of dead money coming off the books in 2023 we should be in pretty good shape even with off season spending spree.
I truly believe our coaching staff has improved enough and brought in enough sustainable talent which puts the Team in a perfect spot to take these chances while still competing and building for the future.